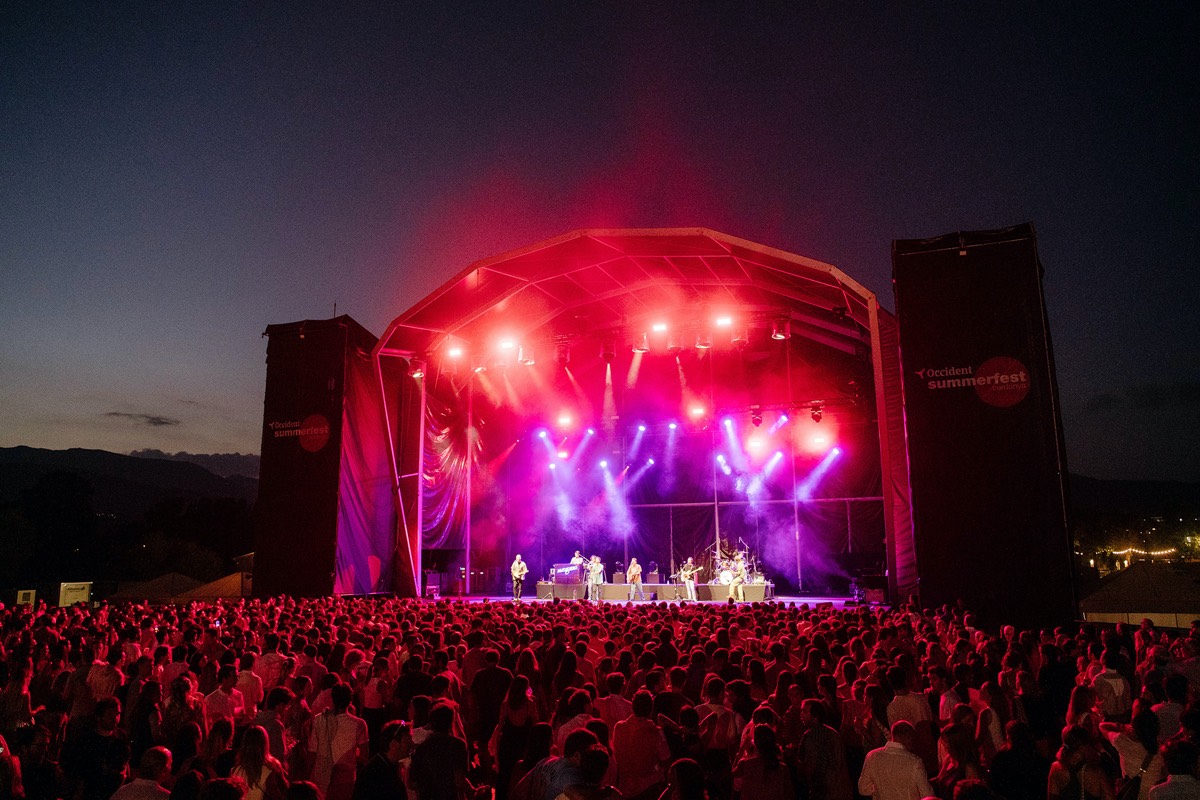 Occident Summerfest in la Cerdanya closed with Pablo Alborán concert. Organised by the Clipper's Group, this second edition of the festival was attended by 16,156 people at a total of 10 concerts, three of which were sold out (God Save The Queen, Rosario and Taburete), consolidating its position as a festival and cultural event of reference in the area. In addition, the festival has had a Village space where, before and after the concerts, the public has been able to enjoy the best version of design and performing arts with visual and festive shows in an idyllic setting. 
The president of the Clipper's Group, Juli Guiu, said he was "very satisfied with the reception the festival has received this year, with an attendance of more than 16,000 people and a total of three concerts that have sold out. We continue to work with enthusiasm to ensure that the Occident Summerfest continues to be the meeting place for the people of the area in future editions". 
Guiu also expressed his satisfaction with this summer's festival season for the Clipper's Group: "We have had the privilege of organising five high quality events in various locations in Catalonia, and the result has exceeded all our expectations. Not only have we managed to maintain an exceptional standard of quality at each of our festivals, but we have also witnessed a great response from the public. In total, we have counted 160,000 attendees at our five festivals this summer". 
Thus, on 26 July, the Les Nits de Barcelona festival in the gardens of the Palacio de Pedralbes closed this year's edition with a figure of more than 38,000 attendees. The festival was sold out in 8 sessions and reached an occupancy rate of 81% over the 25 nights of the event.  
For its part, Festival Internacional de Música de Cambrils (FIMC), closed on August 6 its 48th edition with more than 16,413 attendees in a total of 9 performances of national and international artists of reference that offered the public of Cambrils a unique summer nights. 
In addition, this year the White Summer Festival has a new location in Palamós. The eleventh edition of this market, so representative of the Costa Brava, ended on 15th August with a total of 35,000 visitors over the 12 days of the event, a figure that represents an average of 3,000 people per day in which the public was able to enjoy a space with more than 50 brands exhibiting their products, accompanied by live music, performing arts, gastronomy and children's activities in a magical and welcoming atmosphere.
On the other hand, the Cap Roig Festival also finished on 19 August. Closing its 23rd edition with 53,025 attendees, achieving the "sold out" sign in a total of 12 concerts of the 23 that have been organized this year and reaching an occupancy rate of 94%.
Vanessa Llopart, CEO of Clipper's Group said: "We have had the privilege of organising five high quality events in different locations in Catalonia, and this season has been fundamental to consolidate our growth and reputation in the industry. Our team has worked very hard and against the clock to ensure that each of our events was an unforgettable experience for our attendees. Meeting this challenge and seeing how our initiatives have come to life and the way they have engaged audiences has been very rewarding." He added: "Looking ahead, we intend to continue to outdo ourselves. Our aim is to keep up the momentum and continue to grow until we become leaders in the creation of cultural experiences and become the leading promoter of boutique festivals in our country. For the moment, we have already started working for next year". 
In short, Clipper's Group consolidates its growth in the organisation, management and execution of festivals, closing with great success a season full of music, culture and entertainment, doubling the number of attendees from last year 2022, which has increased from 79,000 to 158,000 registered this summer at its festivals.